×
Too much buffering?
We would suggest you to use Cloudflare dns. Please click here for instruction!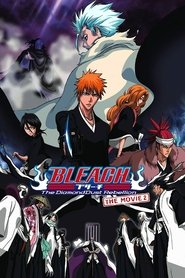 Bleach the Movie 2: The Diamond Dust Rebellion
When an artifact known as the "King's Seal" is stolen during transport from Soul Society, Hitsugaya Toushirou is assigned to retrieve it. Toushirou goes missing after a battle with the thieves, leading Seireitei to suspect him of treachery. They order his immediate capture and execution. Unwilling to believe him capable of such a crime, Ichigo, Rangiku, Rukia, and Renji set out to find Toushirou.
Genre: Action, Animation, Thriller
Actor:
Akira Ishida
,
Aya Hisakawa
,
Fumiko Orikasa
,
Kaya Matsutani
,
Kentaro Ito
,
Masaaki Tsukada
,
Masakazu Morita
,
Romi Park
,
Yukana
Director: Noriyuki Abe
Country: Japan